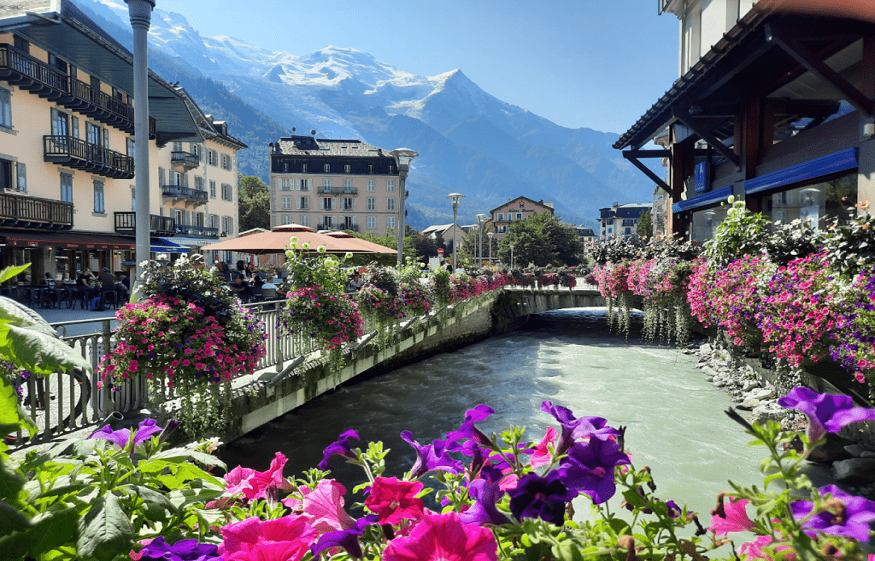 Chamonix is ​​the pearl of the French Alps, the cradle of skiing and surely the most famous alpine town in the world. Such recognition is well deserved as it is the home of Mont Blanc and has some of the most spectacular alpine excursions in the Alps. But, Chamonix is ​​not only about skiing, cable cars and rack railways, it is also a charming town, with a small but very lively center, full of shops, terraces and restaurants where you can taste local specialties and everything this under the attentive gaze of the colossus of the Alps and the same needles of Chamonix.
Walking in Chamonix
It seems obvious, but Chamonix Mont-Blanc has a lot of charm. It is undeniable that its neat alpine style and the beauty and elegance of its buildings and hotels are not to be missed. You can therefore take a leisurely stroll through the streets to admire the alpine landscapes before heading to a golf course in Chamonix to have fun alone or with your family.
The Sea of ​​Ice
The Mer de Glace excursion is the most famous in Chamonix. You have to get on a red cogwheel train, which leaves from the Mer de Glace station (not to be confused with that of the normal trains). This is an affordable excursion and you will be able to witness the retreat that glaciers are experiencing all over the world, especially in the Alps. Even with everything he's lost, he's beautiful, but be prepared because it's crowded!
Summer at Lac Passy
If you go there with children, you will surely want to go back. You will find a sublime lake, bouncy castles, lawn, sand, etc. It really is the perfect place to relax after a trip to Chamonix.
Goodbye Chamonix
It's hard to say goodbye to this beautiful place, lively, full of class and elegance and with a multitude of activities to do, in addition to the impressive and superb excursions in the heart of the Alps. And it's so majestic that when you leave by car, you can't fail to admire Mont-Blanc, the needles and the Bossons glacier from the road, which almost reaches the same road. We advise you to be very attentive when you leave, because you cannot leave without looking to your left to contemplate for the last time this spectacle of nature that is Chamonix.