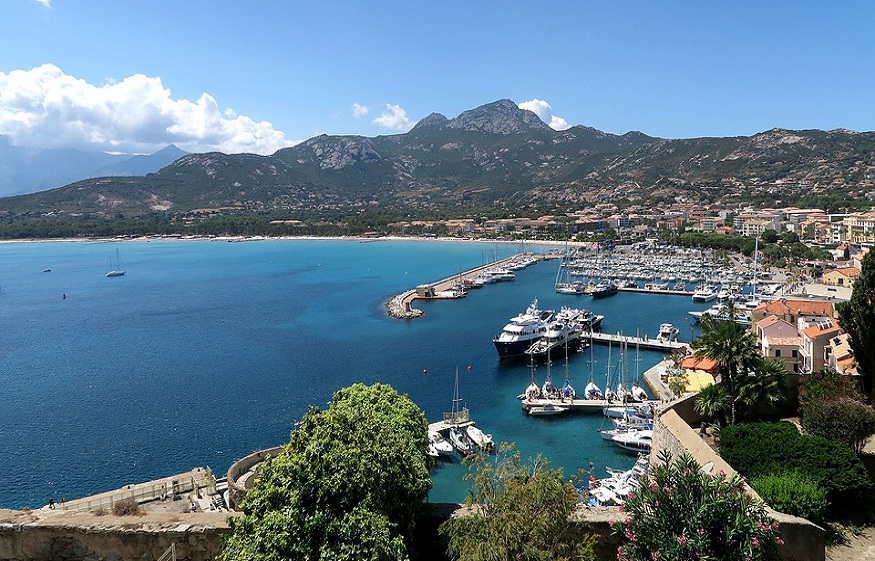 Calvi in ​​northern Corsica is a wonderful town with an impressive citadel which overlooks a marina filled with luxury yachts with a fantastic choice of restaurants, cafes and bars.
I have visited Calvi many times, both on vacation and on photography assignments for Corsican Places. It is the location of some wonderful festivals and a fun place to explore. Just outside the town center there is a beautiful bay with a white sand beach and a backdrop of pine forests and mountains. Dotted along the shore, you will find restaurants more enticing than each other.
See also: https://www.incorsicamag.com/actualite-corse/
My favorite restaurants in Calvi
With so many restaurants to choose from, where do you start?
The beach
For lunch, the restaurants located along the beach provide a wonderful setting. The view of the crystal clear water and the citadel is breathtaking. They are however quite expensive and even if you have spent a lot for a meal you will have to pay around 10 euros for a half day rental of a few sunbeds and an umbrella. Most are usually closed in the evening Visit my site: https://eiretrip.com/
The port
Another area people tend to head to is the marina along Quai Landry – a great place to people watch and admire expensive yachts, but for better value, an even warmer welcome and je think a better atmosphere, I prefer those set back from the marina .
The city center
A Cicala is a charming little restaurant, decorated in cheerful yellow and green, next to Calvi's covered market on the Place du Marché. Specializing in fish and paella, it has been recommended by the Guide Petit Futé on several occasions. During my visit, I found a pleasant welcome and good service. I ate very good lasagna there.
Another restaurant that I found quite charming is Casa Vinu on Wilson Boulevard. It was quite early in the evening and there was no one else in the restaurant except the three generations of the owning family. They were seated chatting on a table near me, and although no one spoke English and my French was minimal to say the least, I felt welcome.
Rather than choose something from the blackboard menu, I was offered a pie and, not knowing what was in it, I smiled and nodded. Shortly after, the pie came back, reheated and accompanied by a salad. The vegetarian dish wasn't the most delicious meal I've ever had, but I really enjoyed the atmosphere of this simple sidewalk cafe, which could have been featured in an impressionist painting. I also suggest a visit to Casa Vinu to all wine connoisseurs, because inside you will find Serge Ricco's wine cellar and you will receive good advice on Corsica wines, I assure you.
The Citadel
If you're feeling energetic enough to climb the stairs, Calvi's citadel offers a number of great places to eat, however, these are again a bit more expensive, which is unsurprising given their atmospheric location. Opposite the entrance to the cathedral you will find the pretty tea rooms of Salon de thé A Scola, a great place to take a break from a busy day of sightseeing with a cup of tea or coffee and a slice of cake. The pretty interior is filled with interesting bric-a-brac and some antiques. You can sit inside by a bay window overlooking the sea or on a table on the cobbled street overlooking Place d'Armes.
For a more substantial meal, there are three restaurants in the citadel, two on the Place d'Armes but I prefer A Candella, which you will find in a side alley of the square, just after the Oratory. With stunning views over the bay of Calvi, this is the perfect place for a special meal.
Your server will bring you a blackboard displaying the daily menu and I found the service to be very good (and quick). I chose the honey-roasted pork with a fig and muscatel sauce, served with mixed vegetables and herb-roasted new potatoes. It was delicious, washed down with a local Colomba beer.
Avenue Christopher Columbus
For a cheaper option, take the road out of Calvi (towards the airport). Here you will find a number of pizzerias as well as restaurants serving traditional dishes. They generally don't have the charm or the view of the city center or the restaurants of the citadel, both of which are mainly pedestrian areas, but they are worth visiting if you have to be on a budget and I found the passing cars quite discreet.
Otherwise, you can always grab something delicious from a pastry shop and have a picnic on the beach. Set back from the beach, on Avenue Christophe Colomb, opposite the junction for Route Pietramaggiore, is the delicious mini-market Au marché de l'Orée des Pins, which sells fruit and vegetables, fresh bread, wine, honey, charcuterie and "homemade" pizzas, quiches and delicious fruit tarts; but don't forget that it closes for lunch around 12:30.